Psyche is powered by Vocal creators. You support
Jess Peters
by reading, sharing and tipping stories...
more
Psyche is powered by Vocal.
Vocal is a platform that provides storytelling tools and engaged communities for writers, musicians, filmmakers, podcasters, and other creators to get discovered and fund their creativity.
How does Vocal work?
Creators share their stories on Vocal's communities. In return, creators earn money when they are tipped and when their stories are read.
How do I join Vocal?
Vocal welcomes creators of all shapes and sizes. Join for free and start creating.
To learn more about Vocal, visit our resources.
Show less
Anxiety is a Twat
Living or Surviving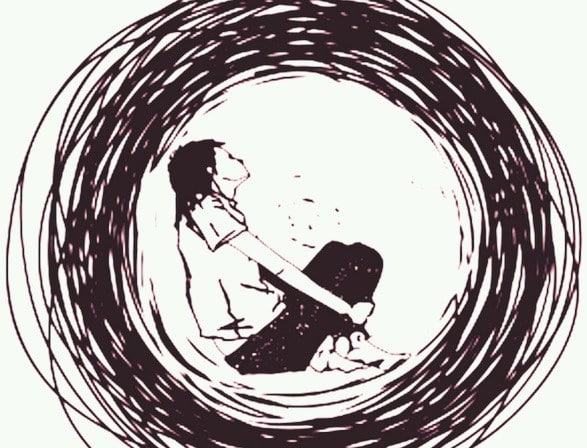 I've lived with my anxiety and depressive disorder for just over a year now and I still feel like I can't come to terms with it. I struggle to do the simplest of tasks and, although medication and other methods do help, some days it's just impossible.
I can just lie in my bed, staring at the ceiling, for hours on end, not knowing how long I've been there or why I can't move. It's like I'm paralysed and engulfed into a cyclone of thoughts that I can't escape from. A whirlwind that consumes me and can only head in one direction. Downwards. 
I feel myself slipping away from everything and everyone I love. Like I'm a totally different person from who I used to be. I'm trying my goddamn hardest to be that person again, but the more I try, the worse the symptoms get and the further I seem to drift into my depression. That person, the one I used to be, seems so far away from what I am now. I look in the mirror and don't even recognise myself, I just see disappointment. Anger consumes me. I can't believe what I've become and I can't seem to do anything about it to change that. I miss that girl so much, the one I used to be. It's like she died and I've been reborn into this anxious, depression-ridden body that isn't my own. 

When you feel like the description above, where you physically cannot move, you are just sitting there staring. Staring at a wall and you don't know why or how you started but you can't move.
You're not doing anything.
You're not thinking anything.
Just staring.
When you feel you can finally move you realise how long you were sitting there. Just staring. So long you didn't even realise. So long you forgot what you were even staring at. So long you realise you've wasted most of your day.
All because your brain's telling you, don't move.
Or maybe it's a situation that you can't overcome. Thinking about it makes you feel sick.
Sick to your stomach.
So sick that you can't control it.
So sick that it makes you panic.
Your breathing rate increases and the breaths get shorter and faster. To the point where you can't stop. Where you can see people around you trying to help, but you can't hear what they're saying. You can see how worried they are, how they're trying to calm you down.
But you can't stop.
You want to stop.
You want to stop so badly that actually stopping to breathe would be better than this.
Stopping to breathe wouldn't hurt as much. Stopping to breathe wouldn't hurt the people around you as much.
So you tell yourself to STOP. Stop breathing. Just stop.
Or maybe you just can't get out of bed. The thought of getting up feels like a huge task, yet you've done it a million times before, every day.
All you have to do is get up!
It's not that hard!
But you feel numb all over.
You keep crying and you have no idea why. Everything in your life is fine. Perfect, in fact.
But you can't get out of bed.
You can't stop crying.
So your brain automatically tries to distract you. You start picking at things. Or scratching yourself. Most of the time you don't even realise you're doing it until someone else notices it. Then, that makes it worse.
In all of these situations, you can see your loved ones trying to understand. Trying to see what you're going through. Trying to cheer you up. And you so want to smile at them. Laugh when they try to cheer you up. You want to do this so badly. But you physically can't. You're numb and you don't feel a thing.
I find myself struggling to get out of bed, eat, sleep, and just generally to live. Because I'm not living - believe it or not, there is a difference between living and just surviving. I never really understood that until now.